Mind: If This Speaks To You, Speak To Us
The Challenge
One in four of us will experience mental health problems every year. Despite high levels of public understanding of mental health, many people don't recognise themselves in current mental health communications or relate to the voice speaking to them. There is a cultural and linguistic disconnect between mental health services and the people they aim to assist. This awareness to action gap is particularly pronounced amongst three key audiences: those living with poverty, people from racialised communities, and young people who have experienced trauma.
The Solution
A public-awareness campaign that connected culturally and contextually with our target audiences by sharing authentic and relatable stories.
Delivered as spoken word poems, these stories were co-created by people living with mental health problems and a roster of up-and-coming Universal Music Artists, to create a "that sounds like me" moment.
Our audience was encouraged to speak to Mind if they recognised themselves in these stories through the campaign's tagline: 'If this speaks to you, speak to us'.
Campaign assets included two hero films featuring Universal Music Artists which were released in cinema and TV, OOH using passages from the poems displayed over the London transport network (48s, 6s, tube card panels) and social cutdowns across Snapchat, Facebook and Instagram.
Impact
The campaign was a resounding success and by driving association and belief, Mind experienced an eight-fold increase in monthly website traffic in London.
The work, launched in May 2022, has been recognised at the Digital Cinema Media Awards, winning best 'Marketing for Good' campaign.
The success of the initial campaign during Mental Health Awareness Week, secured additional investment from Mind for a second burst for World Mental Health Day (WMHD) in October.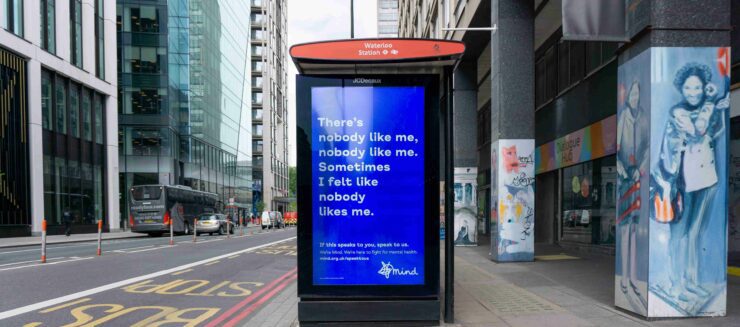 Saatchi & Saatchi Wellness