Leo Burnett and McDonald's launch 'Fries Claims' to fight fry theft and reimburse fans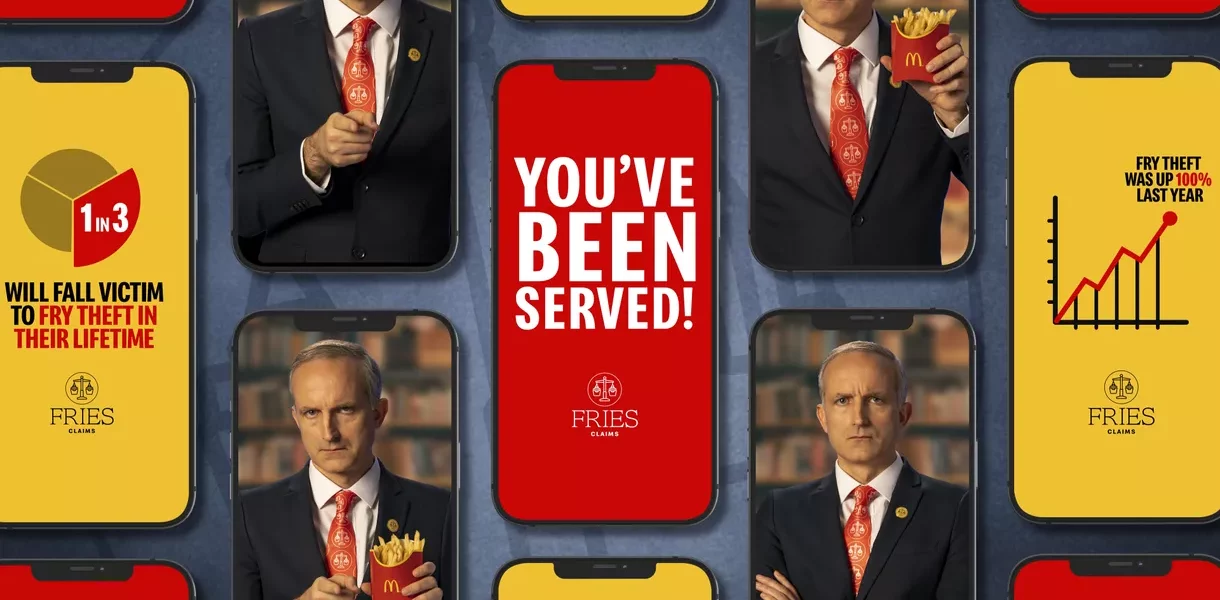 This Friday, McDonald's aims to serve justice and free fries as they launch the world's first fictitious law firm dedicated to fighting fry theft, giving fans the chance to claim back stolen fries.
In their latest campaign, McDonald's will be rebranding its UK Twitter account as the fictitious law firm 'Fries Claims'. The account, @McDonaldsUK, will be taken over by a 'Fries Claims' lawyer, encouraging McDonald's fans to report their stolen fries.
@McDonaldsUK will be posting throughout the day with an assortment of real-time responses, 'legal' advice, live video replies and vouchers to act as compensation for successful 'claimants'.
The social-led campaign, created by Leo Burnett, builds on the insight that according to Twitter search terms, there has been a 100% increase in reports of fry theft in the last 12 months.
Throughout this week, content has been teased on Twitter, including an introductory video from a 'Fries Claims' lawyer to recruit new clients, as well as dramatic testimonials featuring reconstructed footage of fry pinching incidents.
A series national out of home posters and press ads, including an ad in The Sun, calls on McDonald's fans to get involved. Taking inspiration from stereotypical small claims law firms, these ads use the 'Fries Claims' corporate branding alongside a lawyer, stating: 'Are you a victim of Fry theft? Justice and Fries will be served.'.
As well as social content, a full 'Fries Claims' corporate identity has been produced to be used in the video replies, including branded office supplies such as mugs, stationery, and pin badges.
PR agency Ready10 has been working with a psychologist to explore the scientific mental processes of both fry pinchers and their victims, deep diving into the neuro-reactions in the brain when fry thefts occur. The triggers, motivations and what the act tells us about our inter-personal relationships with our friends and families have also been explored, along with research into the fry-pinching habits of the nation to discover when and where it most commonly occurs.
Fries Claims is a playful campaign that shines a light on the little rituals we all have when it comes to McDonald's. The mischievous act of fry pinching is a universal experience: something we all relate to… so why not draw on this insight and have a bit of fun with it?

Louise Page

Head of Consumer Communications and Partnerships at McDonald's UK & Ireland
Millions of McDonald's Fries are stolen every day, whether it's your mate on the way home from the Drive-thru or your dad after opening the door to the McDelivery driver... There's been nothing fans can do about fry theft, until now. To raise awareness for the launch of the Fries Claims law firm we did what any law firm would do… from advertising to client testimonials. The idea ties into McDonald's storytelling ambition of turning up in more innovative, less predictable ways.

Andrew Long and James Millers

Creative Directors at Leo Burnett UK