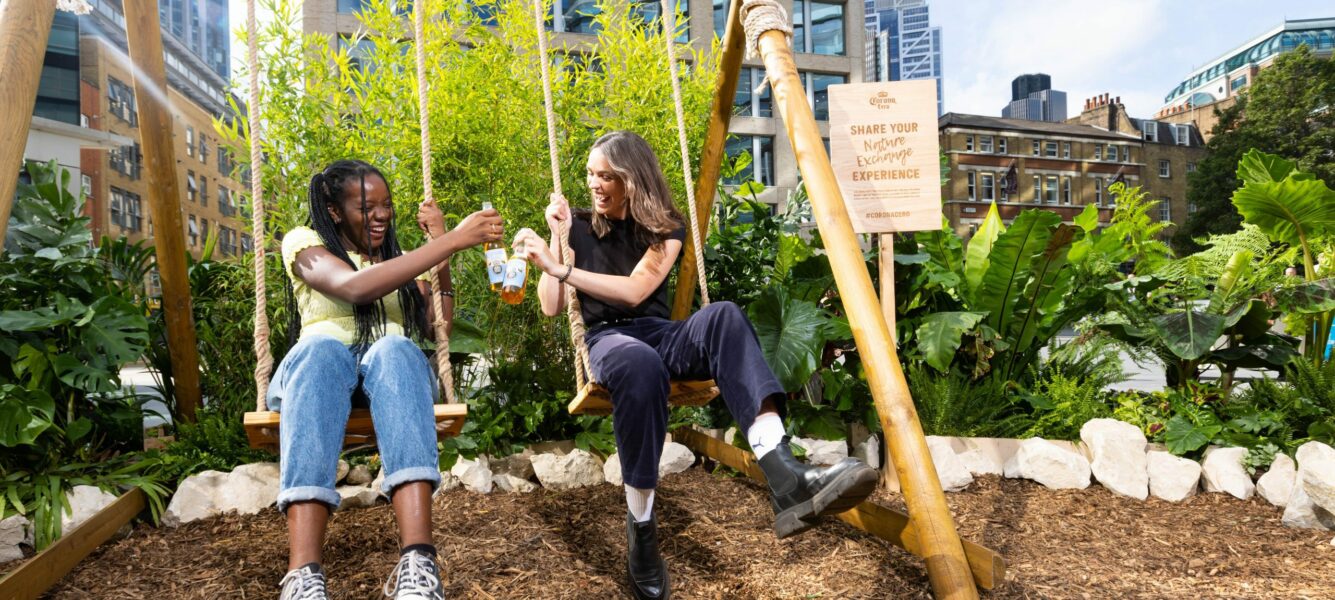 Corona Cero debuted The Nature Exchange, a two-day opportunity to escape the grind and swap out the artificial for a 100% more natural experience, in the heart of the city. Celebrating the launch of its new non-alcoholic alternative, brewed with 100% natural ingredients, the brand is encouraging people to step into nature, and swap their everyday fizzy drinks in exchange for a free bottle of Corona Cero.
People in Spitalfields were disrupted from their habit of grabbing an unnatural drink from a vending machine and led by the nature trail to something better, the Nature Exchange, where they discovered that nature does it best! Once there, consumers were encouraged to swap out their can of artificial drink for a natural alternative, on the house. Filled with beautiful plants, swings and benches the space was the perfect spot to try something refreshing and more natural, whilst providing a haven for people to disconnect from their busy lives and reconnect with friends in nature.
MSL and draftLine devised the activation as part of Corona's 100% natural brand campaign, which underlines the masterbrand's link with nature. Celebrating the power of nature in reconnecting individuals with their best selves and the role the natural world plays in creating Corona and Corona Cero – brewed with 100% natural ingredients.
We know that day to day life often adopts routine habits that we find hard to break, which is why we're excited to see people switch from their soft drinks to a natural refreshing alternative, Corona Cero. Maintaining the same all-natural ingredients our brand is known for, the non-alcoholic drink served at The Nature Exchange, gives consumers the chance to break their habits, reconnect with nature and celebrate a more balanced lifestyle.

Irini Komodikis

Corona Marketing Director, Europe
Brewed with 100% natural ingredients*, Corona Cero can be enjoyed anytime and is best served cold with a signature wedge of lime.
The launch marks Corona's ambition to expand the drinks category with new innovations. In May 2022, the brand launched a flavoured alternative to beer – Corona Tropical, the brand's first lightly sparkling alcoholic drink made with a hint of real fruit juice. It was released in three different flavours – Guava & Lime, Raspberry & Lemon, and Grapefruit & Lemongrass.
As a brand born from nature, The Nature Exchange is part of an effort from Corona Cero to promote balance and encourage more natural choices. In the UK Corona Cero can be found in all key retail stores for £4 RSP for a pack of four 330ml bottles.