BT and Saatchi & Saatchi use Halloween Horror Dolls to bring back broadband nightmares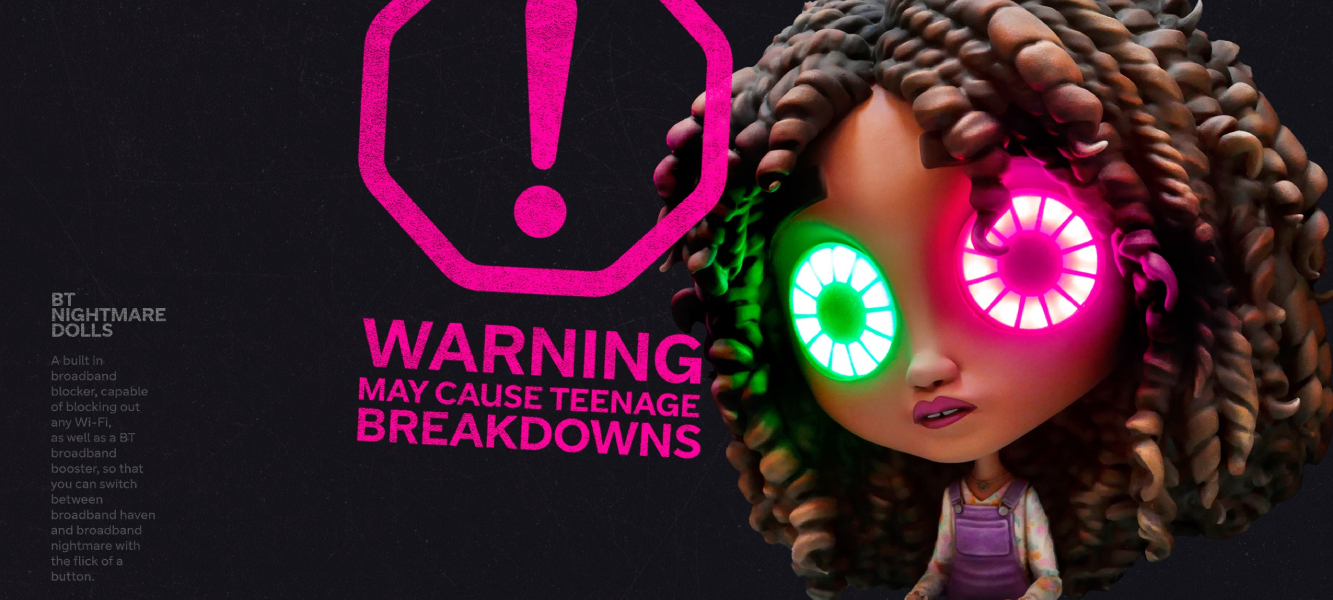 Following its Broadband Nightmares campaign for BT Hybrid Connect earlier in the year, Saatchi & Saatchi has created fully functional and custom wifi controlling Horror Dolls, and enlisted two of the UK's leading TikTok families for some suitably spooky Halloween hijinks to showcase the importance of BT Hybrid's unbreakable connection.
Going live during half term and just in time for Halloween, the targeted social campaign sees the Harfin and Famileigh families – who have a combined TikTok following of over three million  – use the wi-fi controlling dolls to undertake a series of light-hearted pranks and tricks to destroy the broadband connection of normal routers, highlighting how important unbreakable broadband is. 
Designed by Mackinnon & Saunders with wifi controlling technology implemented by The 5Gs, the Horror Dolls arrive branded with 'Warning' signs, and quickly live up to their packaging – disrupting video calls, movies and date invitations, and even cancelling a takeaway order. After a series of nightmarish situations, the content ends with a call to switch to BT Hybrid, to ensure a seamless connection, whatever router tricks are being played.
The need for a back up connection and a network you can rely on rarely feels more important than during the school holidays. The campaign celebrates our unbreakable Hybrid Connect broadband, and employs light-hearted creative to highlight the importance of a back up connection you can rely on.



Julie Wilkin

Head of Brand at BT Group
It doesn't get much scarier than having a broadband nightmare these days. So we took the characters from our TVCs and made them into freaky dolls that can either block your wifi or boost it, with a 4G mobile connection. Then we put them into the hands of some of the UK's leading influencers for the ultimate trick or treat this Halloween.

William John

Executive Creative Director at Saatchi & Saatchi UK