E.ON: A Future Facing Digital Strategy
The Challenge
With multiple new entrants to the energy sector and significant restructuring ongoing, E.ON was feeling the heat. They needed to cut costs to defend themselves from new competition whilst at the same time improve the customer experience so that people felt valued and less open to switch. E.ON needed to reposition itself and represent the future energy aspirations of a young connected audience.
The Solution
We recognised that E.ON urgently needed a series of innovations to occur for their app and so we used innovative service design principles to allow for rapid prototyping.​ E.ON's interest in customer acquisition and retention, as well as reducing cost-to-serve, focused our strategy work on defining the future of the app in three key areas: Customer Service, Smart Meters and Business & Community Solutions. We tackled each area in a seven day, collaborative sprint, resulting in the creation of three prototypes to visualise the ultimate customer experience.​
Our connected solution was the E.ON mobile app: we created a platform that put the power of E.ON in every customer's hand. For the first time, they could manage their account end to end, pay bills or text customer services using their phone.
Not only did customers feel more connected but they were also engaged with a brand that was delivering their future energy needs – a sustainable future with an environmental focus. The service that the brand was now presenting involved less call centre contact – so greater cost efficiencies for E.ON too.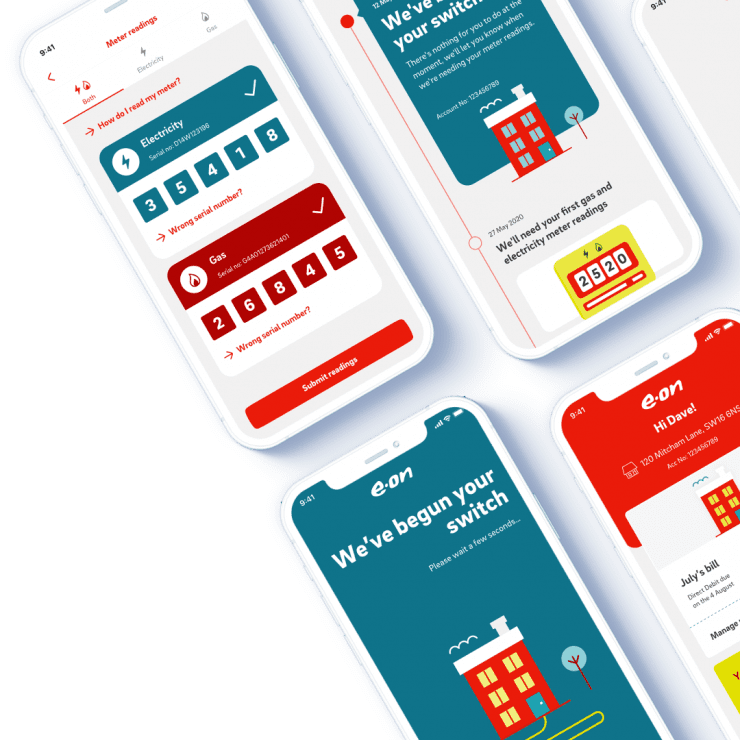 Impact
We increased E.ON's NPS score by 42% and doubled their active app user base. App store ratings went up by 30% with a 553% increase in self-service interactions, resulting in cost-to-serve savings of £3m per year.
Our growing focus on sustainability and energy has to be matched by a forward-facing digital strategy. Digitas' forward-thinking approach was rooted in data and insights, and over the last 4 years, Digitas have demonstrated consistent delivery of excellence.​
Belinda Moore,​ Director of Marketing and Communications