Hectare Agritech: Creating A Dating App For Cows
The Challenge
Hectare Agritech is a fast-growing start-up focused on transforming the way farmers buy, sell, and pay for produce. Their SellMyLivestock platform allows users to find and trade breeding animals, such as cattle and sheep, online.
By using data and technology, farmers are able to reduce the personal cost and emissions spent travelling long distances. They are also better able to track and monitor livestock breeding patterns, ensuring that gene pools remain healthy.
Hectare wanted to talk to farmers, encouraging them to trade livestock online, and in doing so grow subscribers to SellMyLivestock. But it also wanted to show the wider public that, contrary to popular opinion, technology and intelligent data use is crucial to modern farming. Thinking that perhaps goes against traditional ideas around farming and agriculture. Additionally, they were keen to gauge international appetite for online livestock trading in key markets (US, Europe and Australia).
Farms represent an important and extremely diverse part of the UK SME landscape. They are often family-centric and are under a lot of pressure. So, Hectare wanted to communicate that farming can and should be a profitable business, and to position online livestock trading as a step towards a profitable industry.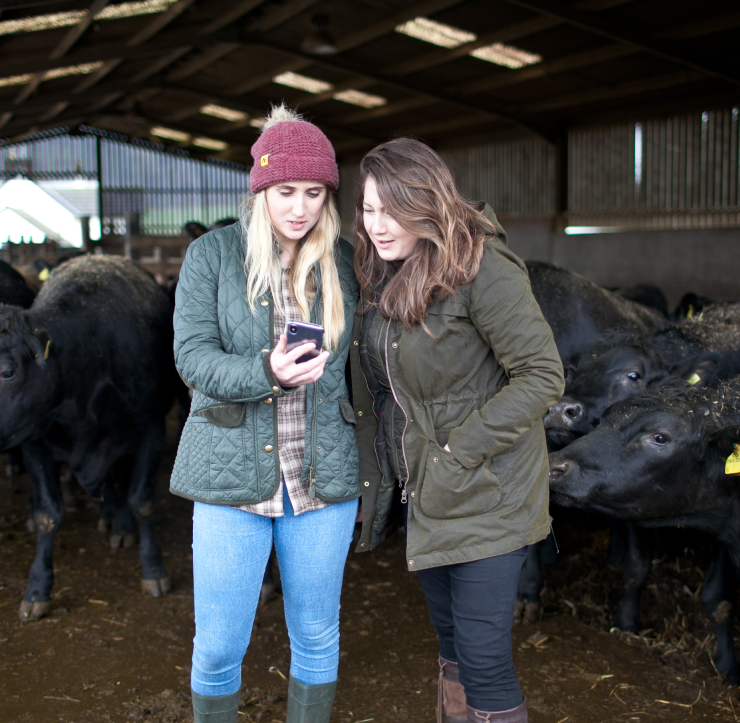 The Solution
Farmers like a laugh, as long as it's not at their expense. We knew, if we pitched it right, a funny and good-natured campaign would go down well.
We developed an app called Tudder, or 'Tinder for Cows', as part of a Valentine's Day-focused media campaign.
The simple dating app for bovine beaus worked like Tinder, with farmers swiping left or right on the profiles of cows and bulls. A match produced an amorous, mooing sound. The chosen profile then led the suitor to SellMyLivestock, where they would find more information on their match.
We wanted to put livestock love on the media agenda. The app launch was propelled by an extensive and ambitious media strategy that included Valentine's cards mailed to key journalists, as well as targeted, exclusive briefings with media contacts, and a multifaceted social media campaign.
Our activities were supported by light-hearted and cow-heavy farm and livestock photography (taken in collaboration with real farmers), teaser app stills, and a funny campaign video created on a shoestring.
We put forward farmers who we knew would interview well, and carried out interviews on their farms, in which they addressed serious issues around agriculture, the wellbeing of their peers, and technology usage. The campaign was humorous while having a serious message behind it.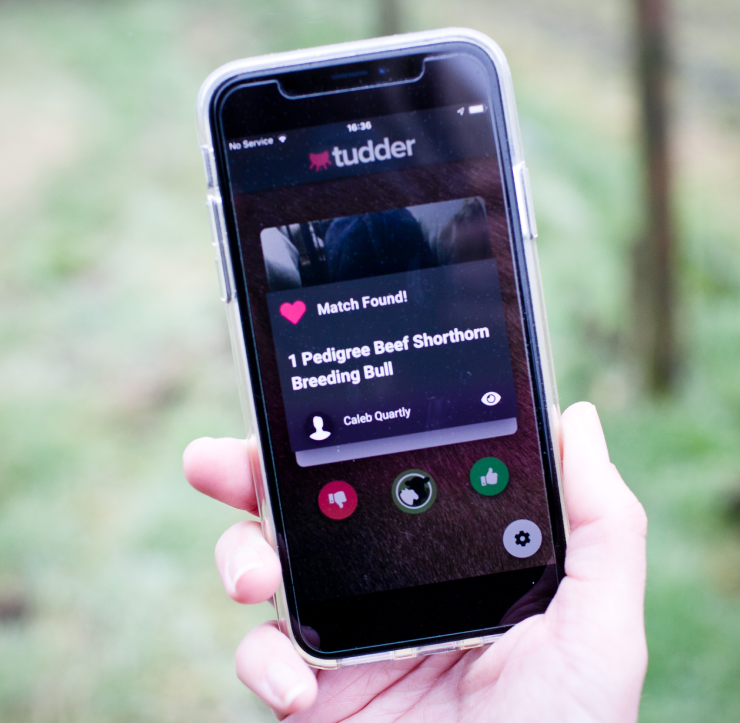 Impact
Tudder became one of the most successful campaigns of the past few years. A month-long programme of proactive media engagement generated huge awareness, direct engagement with the campaign app, and led to a dramatic increase in subscribers to the SellMyLivestock platform (a 58% increase compared with the previous six months).
The campaign took off. We won the public attention we needed with major news outlets from the BBC and The Guardian to Reuters and the New York Post. There was also widespread international coverage including FOX24 News, France 24, CNN, Russia Today, Spanish broadcaster Antena 3 Noticias, and China's TomoNews.
Tudder also caught the attention of pop-culture broadcasters, particularly in the US, where it featured on James Corden's The Late Late Show, Late Night with Seth Meyers and Conan. Unherd (sorry) of for a B2B tech campaign. The humour in our campaign was a huge factor in its success, with the media enjoying, and running away with, our 'a-moo-sing' jokes.
Away from the mainstream news 'punathon' that followed the launch, the story also resonated with well-respected farming industry titles such as Beef Magazine (US), Farmers Weekly (UK) and RFD-TV (US). News of the platform and the wider messaging around the campaign reached our core farming audience, leading to a huge increase in traffic and sign-ups to SellMyLivestock.
The campaign also brought Hectare to those all-important overseas markets. Contacts were made with investors and potential partners in the UK, US, Brazil, Argentina, Australia, France and New Zealand.
Ultimately, we demonstrated that online livestock trading is a great way to make farms more efficient and profitable and had a laugh while doing it. We generated 1,037 global print mentions, 385m Twitter impressions, 30% uplift in SellMyLivestock traffic during the coverage, 30+ global broadcast segments, 18k+ downloads across Apple and Google app stores, 1.3bn print media reach and 5,600 social media mentions.
We were overwhelmed by the results of the Tudder campaign. The incredible media coverage led to an unprecedented increase in new registrations to the SellMyLivestock platform, and put us at the centre of the Agritech conversation with both media and investors. 
Doug Bairner, CEO Hectare