Destination Next: A New Way To Sell Aircraft
The Challenge
Few sectors were hit harder in the COVID pandemic than aviation. As planes were grounded and flights cancelled, some operators went out of business, others had to rethink their entire business model. The industry's planned return to operations and profit was the starting point for our partnership with a consortium of independent aviation professionals, who are collectively promoting the Airbus A330 as an ideal plane for post-pandemic aviation recovery.
We were asked to create a smart, creative, engaging campaign to generate demand for the Airbus A330; the versatility, financial efficiency, and interoperability of this aircraft made it the ideal candidate for airlines looking to bounce back and get flying again.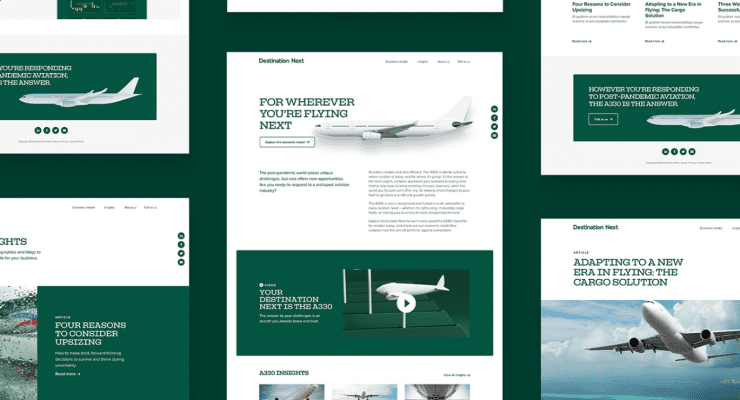 The Solution
The complex nature of this project (we'd never tried to sell planes before) meant starting by getting to grips with the aviation industry. Insight sessions between our Strategy and Planning team and airlines, client representatives at the consortium and industry experts built out our understanding of the sector, the key challenges businesses faced, and how the A330 was ideally placed to meet the moment. This initial phase of work also included the co-development of an economic model, comparing the A330 to a range of rival aircraft, based on set criteria, to showcase its suitability.
With this critical grounding in aviation complete, we began an ideation and development process to establish a campaign platform that would grab the attention of airline owners and executives. That meant standing out from the 'clouds and plane' creative that tends to dominate. Alongside this, we created messaging and content plans to address four key A330 use cases (upsizing aircraft, downsizing, cargo, and new business), built a campaign microsite, and developed a digital version of the economic model. Meanwhile, our PR, Marketing Automation, Social and Demand Generation teams worked on activation plans to launch the campaign to potential customers and the industry at large.
Each stage of our work included client collaboration and workshopping to ensure that our creative, content, PR and lead generation would work for a complex set of buyers – many of whom were used to face-to-face sales relationships.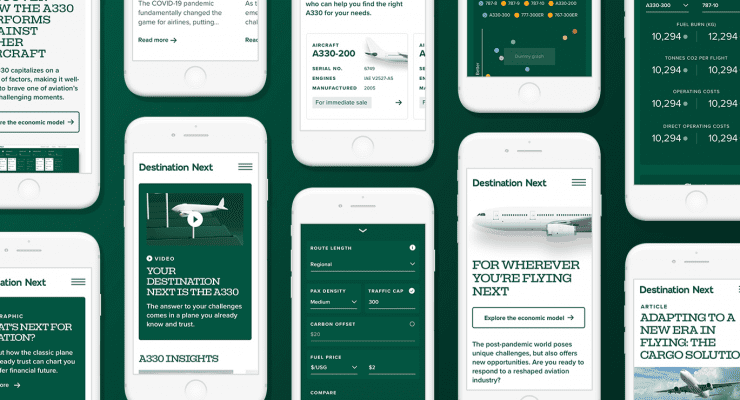 Impact
Our work came together as Destination Next – a distinct creative campaign targeted at all sides of the aviation industry; with a clear message about the numerous benefits of the A330, aligned to the most pressing issues airlines faced during the pandemic (from cost control and fleet management to rightsizing and redeploying staff). Destination Next was brought to life with a microsite housing the economic model and a range of written, video and graphic assets, all pointing to a list of available aircraft. This was all promoted by social, InMails, industry press advertising and a nurture campaign. It generated 360k+ impressions, 4k website visits and 88 Leads.
Importantly, three new partners joined the consortium, boosting the Destination Next project and providing the momentum for a second phase of the campaign.