Saatchi & Saatchi opens nationwide schools creativity programme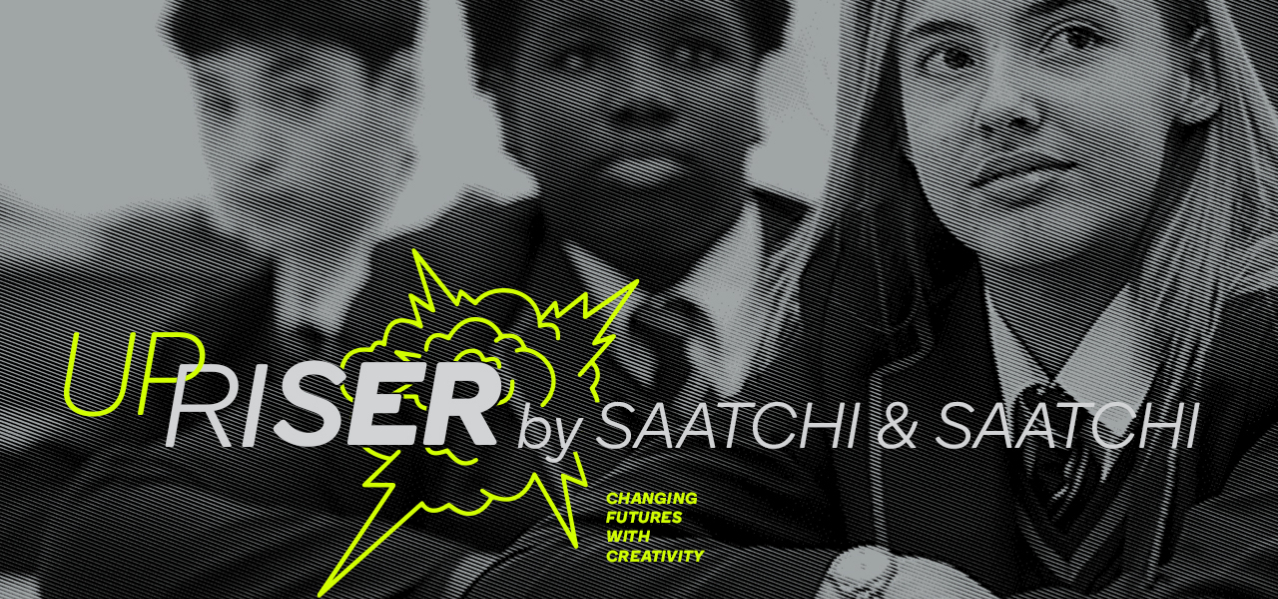 One of the UK's leading creative companies, Saatchi & Saatchi, has today announced Upriser by Saatchi & Saatchi (Upriser) a free, scalable schools platform that the agency hopes will introduce, inspire and open up the creative industries to any student in the UK.
The platform has been in beta for two years, during which time Saatchi & Saatchi has worked in partnership with Harris Academy Greenwich to provide multi-layered support for teachers and students across three core learning pillars. The launch comes in response to what the agency describes as a 'creative crisis': a sustained lack of funding for music, arts and cultural programmes in school – equating to just £9.40 a year per student – which is on track to deal a devastating blow to the UK's creative output due to a lack of future talent coming into the industry.
In addition to sharing its schools platform playbook, Saatchi & Saatchi is also calling on other businesses in the creative industries to lend their support to Upriser, and will help match companies with partner schools across the UK as part of a sustained, long-term commitment to teach lessons, enrol in 1:1 mentoring programmes and offer tangible roads into work for the next generation of talent. Aimed at students from year seven onwards, the playbook can be used in full or in part, and aims to inspire with creativity via problem solving, by interweaving creativity into non-arts subject lessons, and ensuring that the creative industry is a legitimate career path for all students.
Upriser is the second phase of the agency's schools programme, which launched in 2020 as Saatchi Ignite, alongside Saatchi Open and Saatchi Home, as part of a commitment from the agency to offer first hand exposure, inspiration to feel that it's possible, and the hard and soft skills needed to succeed in the industry.
Creativity is the life blood of a thriving economy and culture of a country. The UK's creative industries are vital to our economy; we employ over two million people, and bring in over £100 billion every year. But, starved of funding and resources, we are simply not finding, nurturing and supporting the next generation in the way that we need to and that puts the quality, contribution and influence of British creativity under threat. Funding for arts and creative courses in our universities has been slashed by 50%, and this is not good enough, and Upriser is a small step to help provoke action.

Chris Kay

Saatchi & Saatchi UK
Any progressive company knows that its talent pipeline is an imperative. As such we've used the creativity, ambition and intelligence we apply to our own briefs to what is a systemic challenge of entry level creativity. The resulting Saatchi Ignite programme founded in 2020, is an incredibly special one, with momentum from a seven year commitment and learning from over a thousand hours of teaching, inspiration and mentoring. It's delivering real change to the students and teachers at Harris Academy, it's transformed our own business. However, this is one creative company and one school, it's a drop in the ocean. Upriser has been built to ensure hundreds more schools and hundreds more creative companies can get involved and ensure an entire generation of brilliant thinkers, makers and fixers are powered up.

Sarah Jenkins

Managing Director at Saatchi & Saatchi UK
adds, "The impact of the programme is almost indescribable. It's built to the rhythm of the school and supports whole school improvement planning to make a sustainable impact on the school community. The programme has made a mark on a vast array of our students from a range of backgrounds, many facing barriers to learning and significant disadvantage. It has transformed entire year groups. It has turbo-charged our teaching community and demonstrably contributed to us gaining an 'Outstanding' Ofsted grading in March 2022. In opening the agency doors to our talented young people we know the programme has changed lives and will help to open many more doors for our pupils for years to come.

Georgina Charles

Vice Principal, Harris Academy Chafford Hundred, formerly of Harris Academy Greenwich