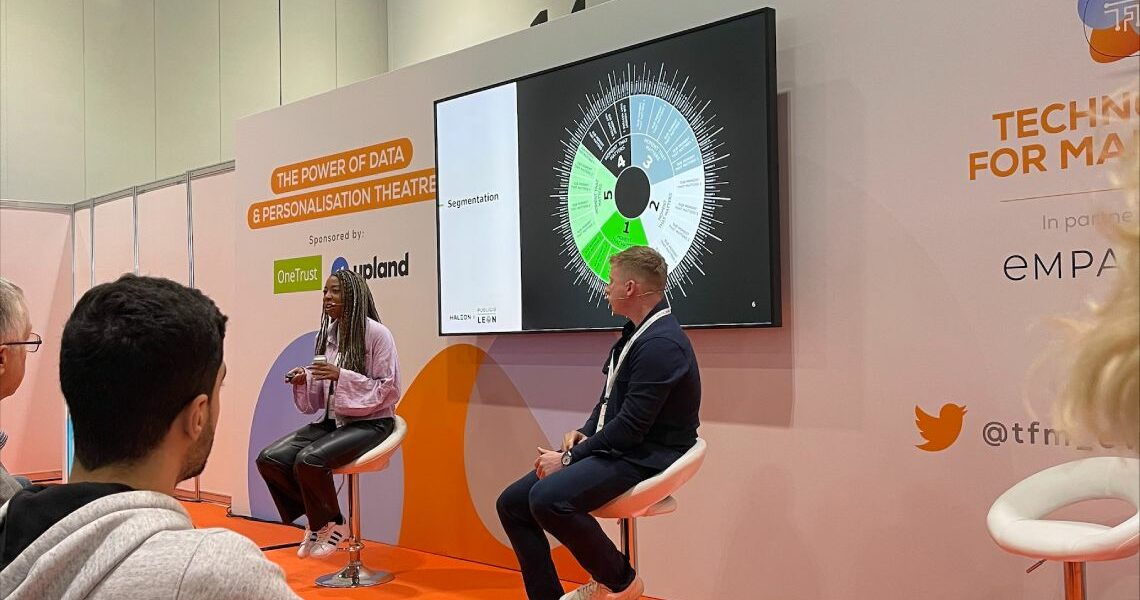 Author: Michaela Ryan, Digital Strategy Business Director at Publicis Leon (part of Spark Foundry)
Last week, James Sharman, Performance & Content Marketing Lead at Haleon and I shared our POV at advertising industry event Technology for Marketing. This was held over the course of two days at the ExCeL London, and our session took place on the Data & Personalisation stage to discuss 'how much data is too much?'
When planning our session, we reflected on where it all began when we first started working together. Haleon (formerly GSK) had already done lots of work digging into their audiences, there were many partners with the ability to execute niche targeting and personalisation and we were all trying to get to the Holy Grail of targeting the right person, with the right product, at the right time.
Based on the work we have done so far, we believe this is a cyclical process; beginning with segmentation, this feeds into media and creative which then drives to digital experiences. We have called this the 'data flywheel' as all three points in the cycle, are fuelled by data input and output.
There are billions of data points available at any given time and many of these can be used to inform media decisions. As a brand, this could be seen as too much data and it is easy to get lost in what is useful and what just isn't.
The process of segmentation should be collaborative between the clients and agency teams. It begins with exhausting all the data options that could inform any media channel, such as social listening, search analysis, sales, purchase data and client research. We then distil this into moments that matter, sub moments that matter and finally triggers as well as sizing the audiences and agreeing what our big bets are. This is used to inform both media and creative outputs and we are able to dial up or down based on the media channel or objective.
Our segmentation process identified gaming as a moment that matters for Corsodyl. Collectively we chose to look at both creative and media by the creation of bespoke gaming creative, housed within popular gaming environments and targeting gamers. The translation in engagement was proof of the value of our segmentation process – we saw a view through rate almost double that of our other media channels and a 54% increase in purchase intent vs. a non-exposed audience.
The last piece of the puzzle is digital experience, on and off-site experiences can help us to personalise the consumer journey by serving relevant content to users based on their input. For multivitamin product Centrum, Haleon included a product selector tool that helped users navigate the Centrum range. The main advantage was first party data collection, we planned to use this to validate and improve the data inputs in step one: segmentation, hence why we see this as a cycle.
All of this work was underpinned by our hypothesis, experiment and scale approach to testing where we have worked to prioritise key tests that have helped us to learn and improve.
So to the question we posed… how much data is too much? Our answer was… it's all about balance, the volume of data we input is only as valuable as the collaborative approach that segments, tests, and builds experiences from it. Our approach is to ensure that we leverage data in the right way to drive the right business results together.
Get in touch with Michaela for more info.