Hastings Direct: Creating A Game Changing App
The Challenge
The insurance market is a slow-growing and relatively 'safe' sector that is experiencing disruption from new entrants and price comparison services.
In line with changing digital behaviours, Hastings Direct believed their customers wanted an app, but they needed to confirm this, identify the key customer journeys, and validate the optimal technical approach for delivery. This needed to be supported by a business case that met the core company goals of delivering higher quality customer experience, increasing retention, and reducing cost-to-serve.
The Solution
Servicing expectations were being set outside the industry for automation and self-service using mobile. This was reflected through research in which 60% of participants were likely / very likely to download a car insurance app that enabled them to edit and manage their policy.
We identified that a well-designed and executed app could enable Hastings Direct to both significantly reduce contact centre operating costs whilst providing a leading experience for customers.
Our starting point was running a series of workshops to align key stakeholders on business challenges, opportunities, and a roadmap for change. We analysed the customer journey and completed other research to set the scope of the MVP and determine the initial specs, but also set milestones for future phases.
We initially focused on giving people easy access to view and manage their car insurance policy, but over time we included new features and functionality to better serve the needs of customers (e.g. ENOL claims integration and support for home insurance).
Most recently, this included an app-only telematics product, acting as a transformer for Hastings Direct, both because it opened up a new proposition area and provided access to car driving behavioural data that was not previously available.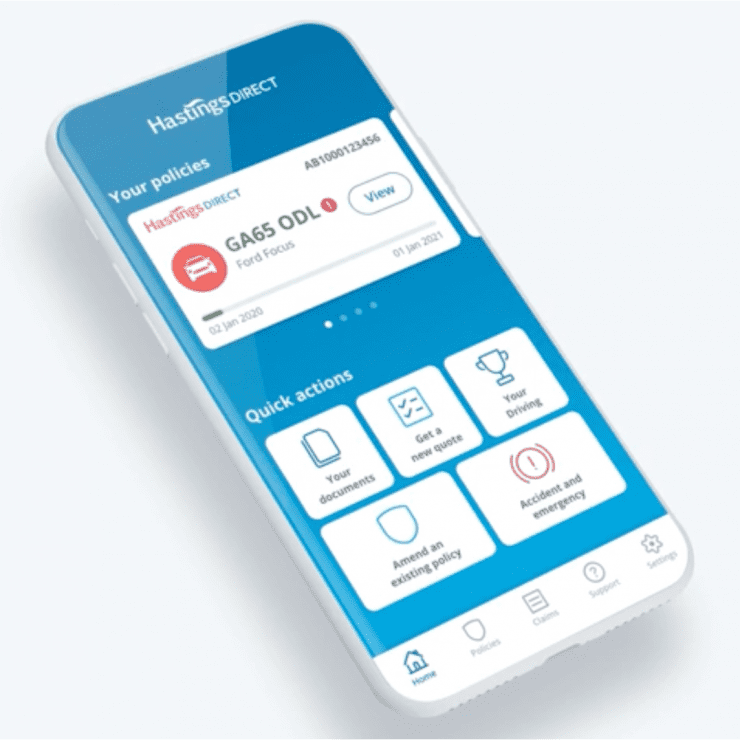 Impact
We achieved £2m in cost savings, redirecting call centre enquiries to the app. We drove 1.2m app downloads and a 4.7 star rating in the App Store, the highest in its direct competitor group.